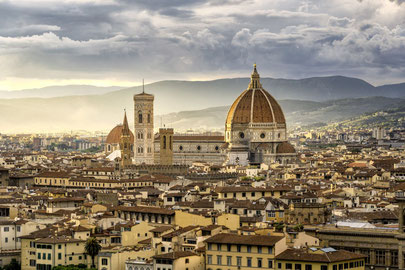 I take this column out of the drawer both because I like it in general and because I want to tell something about myself without feeling embarrassed. Strange thing to say since I'm writing this on a piece of digital paper, but I'm like that, what can I do?
Speaking of my outing, this time I will tell you how love for the city where I have lived for nine years blossomed in me: Florence.
Discovering it was… magical.
I know, it sounds very cliché, but it's the truth! It was love at first sight and even today I am happy to have had the opportunity to move to such a beautiful place. If I had the opportunity to come it was also thanks to my dad who accompanied me ... but not for holiday reasons (now I'll explain).
I will tell two versions of my Florentine experience: the first which is this here you are about to read - which I could define my introduction to this beautiful city -, while the second concerns my transfer to the site and the deeper exploration of its avenues and most famous places.
Here's how it started:
·       Part 1: It all started with wrestling ...
Many of my peers will remember very well that in the 90s onwards, up to 2000 and something, on TV they broadcast the wrestling show called "Smackdown!" of the renowned WWE. In those days, wrestling gadgets were going strong and there were arguments among children about who was the coolest or the strongest wrestler. At first I was not interested in wrestling at all… on the contrary, I found it boring and even too violent (Ps: I still didn't know it was all fake).
Anyway… one day by chance, towards the first year of high school, I decide to give it a chance. I don't remember what it was like the first time I watched the program or what exactly they broadcast… but I liked it, it wasn't as absurd as I imagined (and so you go violent!).
In addition to enjoying watching people fight each other and muscular and seductive big men, I also started collecting magazines, t-shirts and a couple of stationery items ... but the most important part was getting to know my current best friends with whom we shared this passion and much more. But that's history for another article.
In 2006 (or 2007, I don't remember), I discover that WWE will tour Italy and I go crazy.
I become, like, the girl from Turning Red, who wants at all costs to go to the concert of her favorite boy-band and so do I, as such a hysterical teenager; I couldn't miss such an opportunity, also because I would finally see my favorite wrestlers in person. So I start begging my parents to be able to go there, not to the point of begging them on my knees but almost.
My parents, knowing how much I care about such a thing, eventually decide to settle, but only with the promise of doing well in school until the date of the event.
Well yes, I accepted.
It was hard to keep high grades because I was never a model student (much less intelligent), but I kept my promise and got my trip as a reward for my efforts.
I leave in the evening with one of those trains with couchettes with my dad, from the window we say goodbye to my mother and my sister as the vehicle slowly begins to move towards the interior of the territory, while the rest of the city is already having dinner or preparing to sleep .
That day I leave with the prospect of seeing a wrestling show for the first time and bringing back the story of a funny experience to my friends, but it would not be just the memory of a fight that I would engrave in my memory.
No sir.
·       Part 2: The first time in Florence
Sleeping in the bunks of a train is the most uncomfortable thing in the world, not to mention the constant creaking of the beds and the vehicle itself. A terrible situation for someone like me; is a light sleeper. I don't know if I was able to sleep a wink, I only remember the screeching sound of the rails and the constant agitated rocking of the wagon that tosses me on the uncomfortable cot.
Apart from sleepless nights, in the morning we arrive in Florence.
Of course with the back sleep knocking my brain out of my mind I don't really care about arrival, all I want is to get to the hotel and hope to get a decent sleep for a few hours.
The place is not that great, but it is in a strategic position between the Central Station and the center.
In fact, we arrive at the palace in a jiffy and since the wrestling show will be held in the evening, dad and I take the opportunity to rest before going out for lunch and taking a stroll to visit the city.
I admit I wasn't that keen to go out at first.
I was fine having lunch, but going for a walk? For nothing!
I wasn't in the right mood at the time because I was still sleepy, with a stomach ache and the constant anxiety of arriving late for the evening.
I think if I ask him, my poor dad will still remember my constant "but are we in time?" "Aren't we late?" ... I must have given him a terrible headache that day. Anyway, luckily he insisted on going out and that's the only way I could realize the luck that was happening to me.
We head towards the center of Florence, a classic destination for all tourists who set foot in the Tuscan capital for the first time.
Unfortunately, no museums or galleries, time does not allow it.
The road we travel starts from the station, as well as the most direct one that is indicated to us. In reality in that area there are many other streets that are closer and faster, but not being a local we couldn't know it; therefore, let's go through the (so to speak) most "famous" one.
It is immediately recognizable: there are a lot of shops of important brands and it is a nerve center of the neighborhood because it connects the center with the Central Station, in fact there are always tourists and commuters there, as well as students returning from school.
The farther you go into the heart of the city, the more tourists you come across than Florentines. In the midst of the tide of people you can hear languages from all over the world and faces of every race and color; sometimes only in pairs, sometimes gathered in large groups trying to keep up with the guides who continue to tell the death and miracles of the capital.
Both then and today, sometimes walking over there is like trying to swim against the current: you go slowly and with difficulty.
But despite the slowness, the sweat and the repeated bumping against the backs of others, the goal appears before us as an island of salvation.
That island is called Santa Maria del Fiore.
Its brilliance of the white marbles that compose it dazzles me and its majesty makes me pale, the colored motifs and mosaics are like colored jewels that adorn it, the statues of the saints give you the impression of being alive and of being the real ones guardians who protect it and not people in flesh and blood. I feel tiny as I walk the perimeter that the cathedral dominates with its immeasurable height, I had never before seen a work of this caliber that seems to look down on me.
I'm not the only one who is upturned, anyone who is there does the same, trying in the meantime to capture the experience they are experiencing with photos or videos.
At my side dad gives me some history lessons, I listen interested without missing a comma. I am so impressed with the Duomo of Florence that I want to know more, I want to be educated. But Dad knows that there is still a lot to see and so we circumnavigate the Duomo, passing bars and restaurants; to continue the walk.
·       Part 3: Attraction
As we explore, I feel more and more in love with this city.
It is completely different from Reggio Calabria: it is bigger, cleaner… more "luxurious" in a sense. It may sound exaggerated but that's how I looked at it the first time around (and given the house prices, I'm not entirely wrong). Basically, it's like being on another planet.
The ancient Florentine aristocracy has by no means abandoned its avenues, on the contrary; it is still strongly present: in our century it has only modernized by replacing the merchants of fabrics and spices with high fashion shops or Swarovski jewelers, instead of castles and villas the "nobles" stay in splendid hotels and dream apartments.
In my eyes everything glitters like gold, even the carousel in Piazza della Signoria appears to me as something new and unknown, while it turns on itself with its white horses to amuse the children.
But what really makes me feel most in tune with the city is its artistic background.
At school we had already talked about when Florence was at the peek of its splendor in the fifteenth century and how it had gathered the best artists in circulation within its walls. Studying it in person, however, is a completely different experience. Between cars and street vendors, paying attention it is possible to still be able to breathe the atmosphere of those distant times and you can have the illusion of being transported to that golden age of history.
Daydreaming, there is nothing that doesn't appeal to me.
Seeing Santa Maria del Fiore, the love for Florence blossomed immediately, but to give the coup de grace that really made me think "I want to live here" was when I walked the Piazzale degli Uffizi.
It is a space formed by the Uffizi Palace and can be accessed from various streets (we accessed from Piazza della Signoria) with twenty-eight marble statues of illustrious Tuscans on both sides, placed in the niches of the pillars of the portico.
For some reason that path gives me particular emotions.
Perhaps it was the statues of those important figures and the story of each of them that shook me inside, making me feel the weight of their heritage, especially those dedicated to Giotto, Leonardi da Vinci or Donatello. They strike me because they are artists, like me.
Seeing them I realize that even in the past there were people who found their reason for living in art. Even if only stone sculptures it seems to me that they can understand how I feel, a teenager who is becoming a woman; that only in drawing can you find peace in those banal graphite works of mine.
At the time, drawing was the only thing that comforted me in high school, I didn't feel up to par with my other classmates who already posed as world-savvy adults and being a nerd who mainly made comics I felt out of place. Yes, they were people who drew ... but I don't think they considered drawing with the same importance with which I raised it. Or at least, not towards comics.
In that city I feel at ease, finally.
I feel like I'm surrounded by people who understand me and have found a place where I can express my creativity without being judged.
Then I understand that this is the place where I want to stay: I want to live there, in Florence.
I had not yet decided what to do with my life after high school but I know for sure that I want to move to that city, live there forever and become a member of the lodge of artists who lived there.
I didn't become a famous artist, but I managed to fulfill my dream of moving to the city. I lead a different lifestyle since I lived in Reggio Calabria and I am also lucky enough to have at my side a person who loves me and with whom, every now and then; we enjoy beautiful walks in the historic center (although now with Covid we have very limited this thing, unfortunately). And it is this very person who made me discover the rest of the Florentine treasures.
All this will be told to you in the second part.