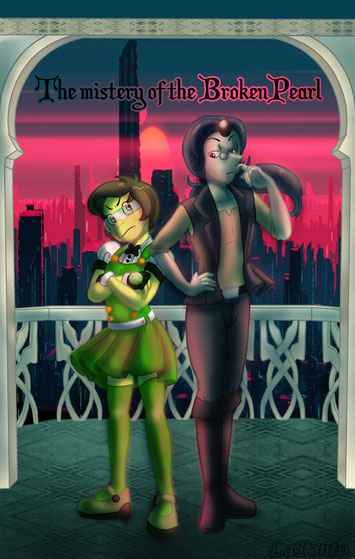 As promised, here is a more in-depth article on the new section: Edicola Ponto (Ponto Bookstall).
it's pretty simple, you won't waste too much time on it.
The section is divided into two parts: the one dedicated to stories (fan fiction and original works together) and the one to comics (same as above). They will be arranged in alphabetical order for easy identification, next to each title will also be specified the language in which it can be read (I wanted to put some flag emojis but I was just making a mess.) And the link that will lead directly to the reading page.
If the story ever present more or less explicit themes (violence, sexy scenes and so on), a warning will also be included.
 How will the works be inserted?
Simple, just propose them.
No, really.
If you know a comic or a story that you particularly like and want to make it known, just contact me and I will add it. Sometimes I will insert some stories directly from my virtual shelf from the ones I follow and I find interesting.
There is only one though: I admit that I will not accept everything - everything.
I have compiled a small list of rules. It would be aimed primarily at fan fiction, but I think it can also be used for comics, so check it out before you propose anything. As the new writing industry takes hold, new rules will be introduced.
THE FOLLOWING TYPES OF STORIES ARE NOT ACCEPTED.
everything that has a content prohibited by state law. So no child pornography, praise for racism, etc..
 plagiarism (both of copyrighted works and other stories written by fans).
 

excessively vulgar stories, which due to their content might only fit in a pornographic / adult-only site.

.
 stories that can objectively upset the ethical / religious sensitivity. Slash and / or erotic stories with religious figures as protagonists or stories in which religious figures are intentionally and objectively offended are prohibited..
 

stories about real people who are not famous (your friends, website or internet users, people you know, etc ...) without their consent
quotes taken from works written by other fans unless explicitly authorized by the authors themselves. It is also forbidden to undertake initiatives on these works (for example, creating sequels of a fanfic of others) without the explicit permission of the original author;
not own texts without the permission of the original author. This also applies to translations. And of course for all copyrighted texts.
 stories that present SMS language, unless this is done with a narrative purpose (example: showing a chat conversation. .. however even in these cases you will have to moderate yourself with the use of this language) 
publish stories with frequent and continuous errors of English. We mean those stories where there are repeated errors scattered throughout the story (not simple oversights, therefore), where it is therefore evident that there is no effort on the part of the author to write in correct English.