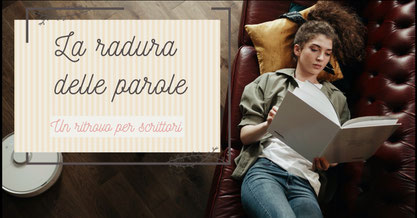 Hi all guys, welcome to the new content of the Youtube channel of "Tea, cookies and art".
"La Clearing of Words" is the new column dedicated to the creators of FanFiction and Original Literary Works. It intends to promote writers and their works through podcasts that I narrate from time to time.
The videos will not contain the entire story, but only the first chapter of the chosen story; in fact the rest will be traceable only on the site (or sites) where the author has already published the rest.
At the beginning of the video you will find the incipit and the categories of the story.
In a second article I will explain some important rules for this section which is not "open to all".
Another important announcement concerns the creation of the new section of the Blog: "Ponto Bookstall"
This section will collect both all the stories promoted by "La Clearing of Words", and the comics and short stories available online or for sale by freelance authors who run on the web. .
There will also be foreign language works, which will be indicated by a symbol next to the title.
If you already know some work, do not hesitate to send it.
In conclusion, I refer you to the first video podcast starring the story of the Author PGV 2, The Community, and also to the story written on the EFP. Enjoy the reading.
La Radura delle Parole: https://youtu.be/dYaSW0NlE2I
The Community: https://efpfanfic.net/viewstory.php?sid=3616591&i=1